Hiking in one of the most beautiful sceneries of Denmark; The Danish Lake district offers a wealth of options.
The landscape is very varied and you can walk both on marked paths and open countryside. Here is space for tranquillity and absorption. You can experience on your own or participate in guided tours.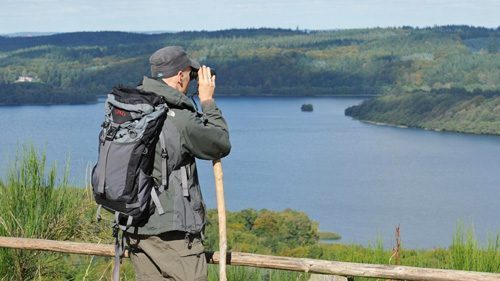 Did you know, that it is possible to climb mountains in Denmark? In the Danish Lake district 15 summits of more than 100 m (!) above sea level are mapped and described with GPS positions and vertical metres. Some have a steep ascending, but all can be done with a normal condition, and the reward is some marvellous views. As an extra incentive, codes has been places at the bottom and the peak of the hills, and when all are found and registered on "bestigbjerge.dk", you can enter the "Hall of Fame". Description of the mountains can be downloaded from the website "Bestig bjerge.dk" or issued at the camp site.
The cultural history of this area can e.g. be experienced on the "Scannerborg route" or the "StoRYtour", where QR codes are put at interesting places on the route. You can download the stories for free to your mobil phone for listening or reading – also in English. All it takes is a scanner, which can be downloaded from e.g. scanlife.com for free.
For geocachers there are approx. 1.000 active caches within a radius of 50 km from Skanderborg Sø Camping, so both beginners and experienced can find challenges in this beautiful area. You can find the cache descriptions on geocaching.dk.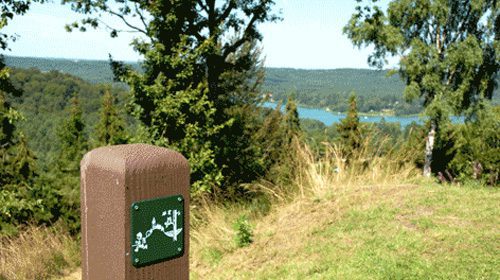 The very varied and incredible beautiful nature around the lake Mossø and all the marked paths in that environs are described in the brochure "Mossø", which can be downloaded on Naturstyrelsen.dk or you can have it for free at Skanderborg Sø Camping when you accommodate here.
"Spor i landskabet" (Tracks in the landscape) has published folders with lovely, easy accessable walks in the environs of Skanderborg and "VisitSkanderborg" had published a folder with 12 very varied walks as well.
Further we have many other suggestions and descriptions for short and longer walks in the woods, through moors or along the lakes and inlets with varied degree of difficulty.
Skanderborg Sø Camping is a member of "WalkingDenmark" which a.o. means that we are well informed about the walking possibilities in the surroundings, that you can buy meals at the site or use a kitchen for making it your self, that we have a room where you dine, that you can get your clothes and equipment dried and we can advise you in almost all walking related matters.
You are very welcome to contact us for further information or a booking.
Book today online or call us at
(+45) 86 51 13 11
Contact information:
Skanderborg Sø Camping,
Horsensvej 21,
8660 Skanderborg
Tel: (+45) 86 51 13 11
Mail: info@campingskanderborg.dk