Denmark is a beautiful cycling country and Skanderborg and the Danish Lake District is an exiting and very suitable area for biking.
With Skanderborg Sø Camping as starting point, we offer a free bicycle map with 10 biking routes for our guests. All tours are round trips between 15 – 55 km and most of them can be shortened, prolonged and combined just as you like.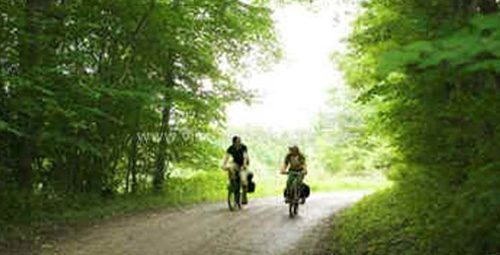 All the routes are made with reference to experience the very varied and beautiful nature in this environs, with peaceful lake areas, woods, fields, smooth hills and valleys. Other experienses on the routes are the small villages, the farmer- and handicraft shops and the churches you pass along the way. The routes are along small, winding roads without much traffic or on cycle paths. Some short distances are on moderate trafficked main roads with cycle stripes. Some few kilometres are gravel paths. Some of the tours are with smooth hills, but with just a normal condition, most people can do them easily.
"VisitSkanderborg" has publish a brochure with 12 beautiful bicycle tours in the Lake District, with distances between 10 – 40 km, you can have it for free at the camp site. Some of the tours are in a cycle distance from Skanderborg Sø Camping, others you'll have to reach by car.
More of the region biking routes and national biking routes are going through the Lake District and we gladly provide you with suggestions and maps, when you accommodate at the camp site.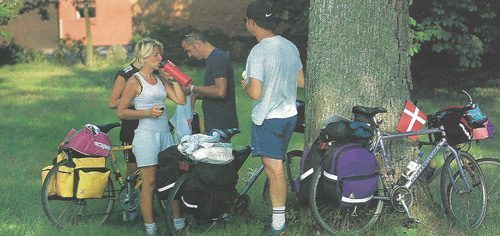 Skanderborg Sø Camping is a member of "CyclingDenmark" and "Bed + Bike" which a.o. means that we are well informed about the biking possibilities in the Danish Lake District and environs, that you can buy meals at the site or use a kitchen for selfcatering, that we have a room where you can dine, that you can get your clothes and equipment dried, that you can borrow the most needed tools for reparing your bike and we can advise you in almost all biking related matters.
You are very welcome to contact us for further information or a booking.
Book today online or call us at
(+45) 86 51 13 11
Contact information:
Skanderborg Sø Camping,
Horsensvej 21,
8660 Skanderborg
Tel: (+45) 86 51 13 11
Mail: info@campingskanderborg.dk